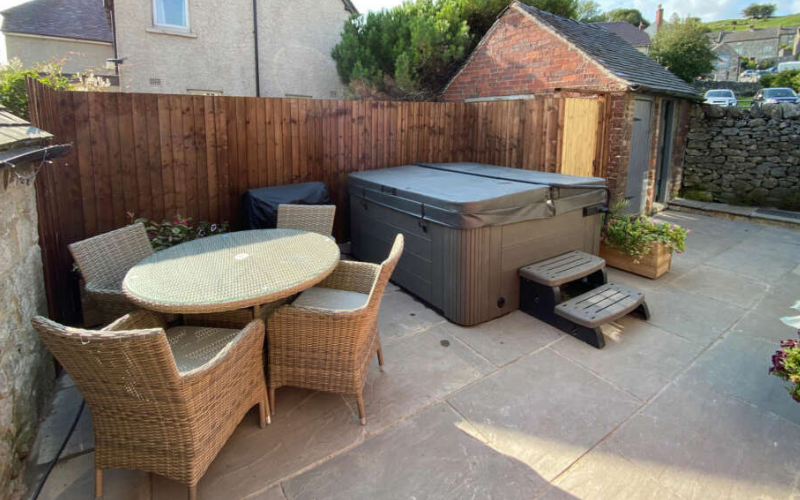 Romantic Cottage With Hot Tub Peak District
Booking a romantic cottage with a hot tub in the Peak District is perfect for a luxury staycation and offers something for the whole family as well! We have a duo of luxury cottages nearby where you can escape the hustle and bustle of daily life and create unforgettable memories with your loved ones. Whether you're seeking to explore the wonderful Derbyshire Dales countryside, celebrating a special occasison, or just wanting to try something new, you'll find all that you're looking for and more here. Book your romantic cottage with a hot tub in the Peak District today and look forward to your relaxing rustic retreat!
Our cottages boast a number of unique and luxurious features, both inside and out. They effortlessly combine modern furnishings with a bright, welcoming ambience. As soon as you step into your romantic cottage with a hot tub in the Peak District, you'll feel right at home in an idyllic location. 
After a day exploring the picturesque countryside around the Peak District, enjoy your evenings sitting around the stunning fireplace or outside in your own relaxing hot tub. All of our properties are dog-friendly as well so it truly is a fun staycation for all the family. There are fantastic amenities nearby including two public houses, one of which is award-winning. So if you can drag yourself out of the hot tub, you can make the short stroll over to a country pub to enjoy a delicious meal and drinks. 
Want to book your romantic cottage with a hot tub in the Peak District right away? Click on the button below. Alternatively, please call or email our team, where we will be able to check availability and make a direct booking for you. Availability goes quickly, especially during the holiday season, so to make sure you get the dates you're looking for, book sooner rather than later!
Romantic Cottage With Hot Tub Peak District - Location info:

The Peak District in Derbyshire is one of the most stunning, picturesque areas in the whole of the UK. Many of our guests are awestruck when they see their cottage in the Peak District with a hot tub, taking in the beautiful countryside around it. Situated on the edge of the Peak District National Park, we have a duo of exclusive retreats to choose in peaceful rural locations close to cosy country pubs, award-winning restaurants, amazing walks, and a range of intriguing activities that you'll find right on the doorstep.
Due to their special location, our rural accommodation is ideal for enjoying excellent walking holidays with easy access to the network of footpaths that connect the small villages and hamlets that can be found throughout the Peak District countryside.
Bustling towns just a short distance away boast a number of tourist attractions as well as a wider range of shops and other amenities. The well renowned Carsington Water can be reached by car, or easily by foot – You'll have an excellent day out here that the whole family can enjoy. Its Watersports Centre offers many outdoor pursuits such as sailing, boating, windsurfing and cycling. There is also a restaurant, shops and an adventure playground for children of all ages here.
Other local attractions such as Alton Towers, Matlock Farm Park, Dovedale. Chatsworth House, Haddon Hall, Sudbury Hall and Kedleston Hall are also just a short drive away from your romantic cottage with hot tub in the Peak District. 
Romantic Cottage With Hot Tub Peak District - FAQs